Hydrotherapy is the use of water in the treatment of disease. The use of water for therapy has been around for hundreds of years, as far back as the ancient Greeks and Romans. It is now an integral part in many traditional medicine treatments such as physical therapy.
How Does Hydrotherapy Work?
Immersion in hot water raises the temperature of body and improves blood circulation. Because your body is buoyant in water you feel less pressure on the joints and muscles, which helps release pain and tension. Most hydrotherapy tubs have a whirlpool or jet spray component that sends out a stream of water to surround and massage your body. Water massage also stimulates the production of feel-good neurotransmitters (endorphins), allowing for total relaxation.Additionally, the water encourages the release of toxins as well as provides additional benеfits to the circulatory and elimination systems.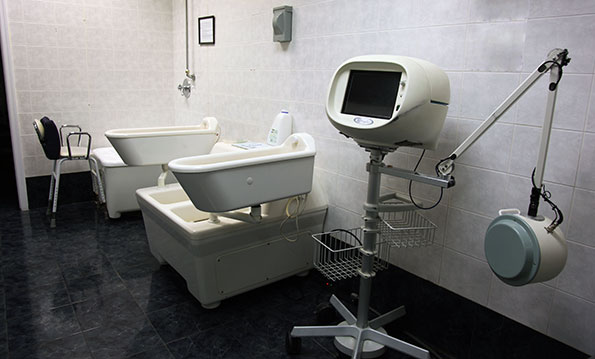 Galvanic baths
Galvanic baths, such as those found in our practice, combine electroenergy and hydrotherapy, but are used only on the limbs. The patient's forearms and/or lower legs are put in warm water trays and electric current is painlessly passed through the water. This pain-killing procedure improves blood circulation and is considered especially beneficial for Rheumatoid Arthritis.